At Northshire Day School, we are working as a teaching community to provide children with opportunities and experiences that will scaffold their learning, growth, and development. As such, we are making the move to change the vernacular around how we are referred to. Here's where you come in, as an integral part of our school community. Over the coming months you will start to notice us altering the language we use to refer to our school community. Please join us; we'll be more successful if we all work together at this!
First, let's refer to our teaching community as a school. Why? Children are learning here every day, through diverse learning opportunities provided by well prepared early childhood educators.
Our work does differ from the work happening in K-12 settings, but it is not less important. In fact, our work is laying the foundation for brain development and neuroplasticity. Through play children engage and interact with the world around them, which prepares them to be global citizens.
'"Daycare" demeans my career that I feel so passionately about. It makes me feel like I am regarded as a babysitter, and that I am not seen as a teacher. It takes away from the effort I put into two years of a Master's degree and the knowledge I have that it takes to be an early educator."
Second, classroom teachers can be referred to as early childhood educators.
We have specific requirements for the roles we fill at NDS, for the contributions we make in our classrooms, and the responsibilities we hold in ensuring children have the right opportunities for growth and development. Our field is defining who we are and therefore we are asking you all to join the movement.
"When people use the term day care it undermines the work that early childhood educators are doing and the work that people in the field are trying to elevate. Daycare for me equates to babysitting and completely ignores all of the education, professional development, and training I have completed, so when people say it to my face it stings."
Third, our field of work can be referred to as early childhood education.
We are working to illustrate how children's individual and shared experiences at NDS lead to learning as we help people outside our field understand that play is learning. You will see this in our social media posts, our newsletters and more. Our hope is that this effort will show all the amazing learning and skills that happen throughout each opportunity at NDS. Thank you for your partnership. Please let us know if you have any questions or suggestions. Changing to a more professionalized language will help ensure that our teaching staff feel valued and empowered, and that our center is recognized for the skills-based work we do with kids every day!
This week, voters in Manchester, Dorset, and Sunderland voted to appropriate funds to Northshire Day School. Thank you for voting "YES" for NDS!
Town Appropriations help NDS fulfill our commitment to deliver exceptional early childhood education to as many children and families as possible, regardless of their ability to pay.
With your help, NDS provides a nurturing, reliable, and inclusive place where children grow and thrive. Your investment makes the Northshire community a great place to live and work, all while building a foundation for academic success and well-being for our children. Thank you!
My name is Maggie, and I work as a Preschool Teacher at Northshire Day School. Although I first went to college to study ancient history, I found myself working with young children and realized that my calling was Early Childhood work. I found early education during a difficult period in my life, and this work has provided me with so many things: a professional path forward, opportunities for ongoing learning, and a career in which I am able to make a meaningful positive impact.
I've worked in preschool classrooms for the past 11 years now. Inclusive, multi-age preschool has become my specialty. However, I entered my first preschool classroom with no relevant education or training. Since my early years as a classroom assistant, I have engaged in ongoing professional development and learning. I also found ways to continue my formal education, thanks to supports like the Apprenticeship Program and TEACH.
Within the past nine years, I have completed Apprenticeship and returned to NYU to finish my bachelor's degree. I then earned licensure through Peer Review, participated in the Early Childhood Leadership Institute, and become a mentor teacher and Instructor. I have grown as a leader as well. For the last few years, I have been a graduate student on the side of full-time classroom work and other professional commitments, and I'm excited to say that I just successfully defended my Master's thesis.
While I may have a lot of accomplishments to name, my story is not unique. I work with colleagues who are just as dedicated to their own learning and professional growth as they are committed to serving children and families. And yet, many of us are also struggling to cope with the many challenges that come with working in the early childhood field. In my thesis research, I investigated relations between teachers' emotion regulation, stress, and resilience in the context of early childhood educationand care. My research was inspired by my work in the classroom, supporting teachers, and my findings were unsurprising: stressors that impact teachers functioning in the classroom can largely be traced back to systemic problems. Inequities such as poor compensation, lack of planning time and program-level support, long work schedules with a majority of hours spent providing direct services to children, a lack of public recognition and increasing expectations are all stressors that emerged at the systems level, and were echoed by educators from across the U.S.
To make this point at a personal level, I can share that the sole factor enabling me to stay in this profession for 13 years is the fact that I have been able to live with family. And even while the program I work for has worked incredibly hard to raise teacher wages, I have thought about leaving this very important and rewarding work in order to find a job that provides more adequate compensation and other essential benefits (like health insurance!).
Quality care and positive child outcomes are absolutely dependent upon a qualified workforce that is publicly valued, well-supported, and fairly compensated. Early educators do this challenging work largely because we are passionate about young children and families. Those of us already doing this work need public investment and increased systemic supports in order to continue moving forward. And the population of children and families in Vermont, current and future, need more qualified, competent early childhood professionals to join the workforce. We need to find ways to promote workforce development and retention, without placing the burden on families.
When the systems of early care and education provide teachers with the supports, compensation, and resources they need, stressors that impact program and classroom processes are reduced and, ultimately, teacher and child outcomes are improved. Public investment in our Vermont Early Childhood system is absolutely needed in order for children to have equitable, positive outcomes, and for communities to grow and thrive. Investments that support and grow our Early Childhood workforce are direct investments in our children and our future.
March 1, 2023
Manchester Journal
MANCHESTER – Northshire Day School is offering a twelve-week Spanish language course to early childhood
educators at the Arlington Common. This course is free and made possible by the Sunrise Direct Service Community Grant and the NDS Irene Hunter Professional Development Fund.
Local educators Andrea Thulin and Maggie Rubick will team up to teach a Spanish conversation class through the lens of working with young children and their families.
"Our goal is to ensure that educators are prepared to work with dual-language learners and are ready to welcome all children and families to their classrooms," said NDS Family Tree Coordinator Jen Rodriguez, who is organizing the program.
Early childhood educators serving children in infant classrooms through grade two are invited to participate. Those who complete the course will receive professional development credits and a certificate, in addition to $100 worth of dual-language materials and books to empower them to apply their learning in the classroom.
Spanish in the Early Childhood Classroom will take place on Wednesday evenings from 6-8pm from March 29 through June 14, 2023. For more information, or to register, please contact Laurie Metcalfe at lmetcalfe@northshiredayschool.org.
February 17, 2023
Manchester Journal
MANCHESTER – Children at Northshire Day School have been enjoying enrichment opportunities from their local community.
"Our enrichment programs all have one thing in common: children are learning through play," said Jane Gras, the curriculum director at Northshire Day School, where she has worked for 22 years.
Throughout the school year, classrooms welcome Laurie Goldsmith, science educator at the Vermont Institute of Natural Science, to guide play with natural materials that help young children experience nature and science. Alexandra Langstaff is a certified educator who brings her playful Hullabaloo curriculum to the school for children to explore and promote physical development using music and movement.
Gras added her particular enthusiasm for the school's Literacy Week, which runs from Feb. 27 to March. Every day will have a theme that promotes literacy and learning, including a CLiF Storytelling Event on Feb. 28. CLIF storyteller Marv Klassen-Landis is slated to host the event and will engage children in interactive folktales and poems. Afterward, each child will select two new books to keep from hundreds of titles.
Early Childhood Educator Pearl Schramm joined NDS in June 2022. She holds a M.Ed. in Early Childhood Special Education from Champlain College, BA in Family Science and Human Development/Child Advocacy and Policy with a minor in Psychology from Montclair State University, and recently earned her Early Education Licensure for birth-grade 3. Pearl took some time to share her perspective as an early childhood educator with us.
What do you most enjoy learning about?
Though I am grateful for having the privilege of higher education, my favorite learning is the kind I do every day in the classroom. The children are constantly providing feedback about what's working, what's not meeting their needs, and, most importantly, what is bringing them joy. That's what gives all of these textbooks and trainings meaning.
Tell us about a teaching experience that was meaningful to you. Why was it important to you?
In my first year as a lead teacher I had a child in my classroom community with selective mutism. After a lot of hard work both on the child's part and on his team's, he finally began communicating verbally in school about 2/3 of the way through the school year. I came up with two strategies based on the child's interests (animals and mysteries) that were instrumental in this process. The first was a secret language in which the class slowly worked through a core set of 20 often-used words or phrases, replacing each one with an animal sound. The second was an animal habitat center I made myself out of a donated bookshelf turned on its side, found objects, and materials purchased on sale from the craft store. Both strategies were created to encourage social interaction and communication of needs and wants in a safe, no-pressure environment. This child spoke at school for the first time while playing in that animal habitat, and within a few weeks he was speaking freely in our classroom. I'm so proud of this child and I still tear up thinking about them. I really felt the impact that intentionality and creativity can have when it comes to meeting the needs of children; that's why I do what I do.
What guides your teaching?
I feel lucky to be able to say that I really, truly care about what I do. Yes, my job often involves colorful markers and glitter glue. However, it also involves a carefully maintained, intricate web of deliberation and planning. Every day we are considering the needs of an entire group of children, adapting on the fly to meet these needs as they shift from moment to moment. Yes, we wipe runny noses and mop up pee, but we also give children the self-help tools needed to successfully navigate through their lives. Yes, some days I sing more than I speak and I say things like "I want to remind you that we're not using bubble butt power as a weapon" or "Let's find a safe place for the chameleon that's not in your pants." But I'm also working on teaching fundamental skills across several domains, fostering positive social-emotional development, and making every child in our community feel seen and loved each day. It's true, that being an early educator is hard. Exhausting, even. But it's also critical work. And it's fun. And it's gratifying beyond what you can ever imagine. And it's exactly how I want to spend my days. I get to support the children I hold so close to my heart in learning and growing, while also getting to dig for insects and finger paint, and that is something truly magical.
What does the phrase "advancing the profession" mean to you?
Every day we are fighting so that we, and desperately needed early educators entering the workforce, don't have to choose between making a living and doing something we care about. There is no denying that some days in this job are incredibly tough. I grew up watching my mom, and now my colleagues, taking on countless roles and working tirelessly to help keep the complex fabric of our field woven together. I have found that the general public has a range of attitudes toward early childhood education, from severe criticism to wholehearted support. This being said, there is one interaction I had as an undergraduate that has always stuck in my mind. During a conversation, a friend of a friend remarked that all my coursework consisted of cutting out construction paper shapes and singing the alphabet. This is exactly the reason that the advancing the profession movement exists. We want to be seen and respected. It's the reason we fight so hard for not just appreciation but for systemic changes that will bring fair compensation, affordability, and access to early childhood education.
Anything else you'd like to share.
My first taste of being a "real" teacher was becoming a teaching assistant at age 10 in my dance studio. I did not take the role lightly and took great pride in being able to share knowledge of something I loved with people younger than me (getting to mark the little checks on the attendance sheet was also a thrill!). As I grew older and began to find my place in the world, I never lost that feeling. I'm just so grateful and proud to be a part of Vermont's early childhood education workforce.
January 30, 2023
Manchester Journal
MANCHESTER – Northshire Day School, founded in 1968, is celebrating 55 years of providing early childhood education to area families.
The NDS Board of Trustees has accepted a new mission statement, formed with the school's staff and educators, that reflects the important learning opportunities available at the early childhood education center. The new mission reads, "Northshire Day School cultivates a nurturing and inclusive community where children grow and thrive."
NDS also welcomes two new trustees, Marissa Eustace and Mary Welford. Eustace lives in Manchester with her husband and son, who attends Northshire Day School.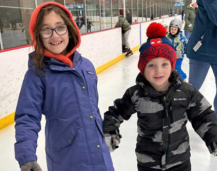 MANCHESTER CENTER – Charlie's Coffee House sponsored a Dollar Skate at Riley Rink on Sunday, January 22, 2023 to benefit Northshire Day School (NDS). The NDS Family Committee prepared a variety of treats for the bake sale.
"The Northshire is a great place to raise young children, and we are so grateful to Charlie's Coffee House for giving us the opportunity to bring families together and make memories at Riley Rink. This commitment from local businesses makes our
programming possible," said NDS Development Director Jennifer Luty.
The Dollar Skate was well attended, with about 100 children and their families from the Northshire area participating.
MANCHESTER – Northshire Day School is launching a three-year pilot program. The newly created "Family Tree Program" is built on the strengths-based philosophy of the Strengthening Families framework and protective factors.
The program promotes strong families and healthy development for children prenatally through age 5, and provides resources, service coordination and support to help all families thrive during everyday circumstances, as well as persevere during times of stress or crisis. The Family Tree pilot program is made possible by a grant from the Irene and James Hunter Charitable Fund.
The school has chosen Jen Rodriguez to coordinate and lead the new program. Rodriguez has over 10 years of experience supporting children and their families. Rodriguez is passionate about improving outcomes for children and families, stating that "caregivers are children's first and most important teachers."
"We know the importance of partnering with families with young children and providing support and services that are easily accessible, relevant and helpful. It is also important that services are geographically located in a family's community and not dependent on specialized qualifying criteria. All families need support sometimes," school executive director Laurie Metcalfe said. "Within the next three years, we hope to extend the Family Tree to the greater Northshire community and offer support to families with young children beyond those enrolled in our classrooms."
MANCHESTER CENTER, VT – A local foundation is challenging businesses to acknowledge early childhood education as critical infrastructure and invest in Northshire Day School. If community partners invest $100,000 in Northshire Day School by December 31, 2022, it will unlock an additional $50,000 grant from this anonymous foundation.
"The Manchester Business Association knows how challenging it is to attract and retain qualified workers as it relates to finding childcare in our area," Manchester Business Association Executive Director John Burnham.
NDS Development Director Jennifer Luty said, "so many of our families work essential jobs, and we are proud to be the workforce behind the workforce."
All contributions made by December 31, 2022 can help unlock the matching grant and will be recognized on the Northshire Day School website.
There will be a private launch party for those interested in making a pledge. Please contact Jennifer Luty at 802-362-1395 or by emailing jluty@northshiredayschool.org if your business would like to participate.
"When you invest in Northshire Day School, you open doors for our community," Luty added.
October 17, 2022
Bennington Banner
BENNINGTON — As early education leaders. Alyson Grzyb and Laurie Metcalfe are reminded daily of why what they do matters — and the financial hurdles that still stand between families and affordable quality child care.
Grzyb, director of the Bennington Early Childhood Center, and Metcalfe, director of the Northshire Day School in Manchester, were recently recognized by a statewide association for their commitment to providing learning opportunities for young children.
Both women love what they do for a living — because they enjoy the work, and because they know how important it is.
Metcalfe said that more people should know and understand what early educators do — and how crucial it is for kids, and for their community, to have the best start possible.
Early childhood might seem like child's play, she said, but that play is how children learn. The activities led by the schools' teachers are carefully thought out and intentional and targeted for specific learning objectives, she explained.
"I strongly believe in the value of early childhood education, and the trajectory that creates for success," Metcalfe said. "We serve 85 to 90 children — that means we get to make a significant meaningful impact in our community."
As administrators, both women are keenly aware of the challenges facing early childhood education, in Vermont and across the country.
October 13, 2022
Bennington Banner
BENNINGTON — The Vermont Association for the Education of Young Children (VTAEYC) recognized two Bennington County women for their leadership in the area of early childhood education.
During Vermont's annual Early Childhood Education Conference on Thursday, Alyson Grzyb of Bennington and Laurie Metcalfe of Manchester were designated two of three 'Outstanding Member" awards. Grzyb is director of the Bennington Early Childhood Center; Metcalfe is director of the Northshire Day School.
At our Annual Meeting, we presented our Community Partner Service Award to the Mt. Laurel Foundation.
The Mt. Laurel Foundation is a true partner in supporting children with specialized needs, supporting children at NDS for over 10 years. Their continued grants have allowed us to purchase adaptive equipment, hire additional 1:1 educators, and provide professional development for our teachers and staff.
The Mt. Laurel Foundation continually supports NDS in ensuring that each and every child has a successful experience at Northshire Day School. They proactively make sure that we have what we need and that children with specialized needs have opportunities throughout the Northshire Region.
Kimberly Capps received the You Make a Difference Award at our Annual Meeting.
Kim has been a beam of sunshine since her arrival and is a quiet leader among our staff. She has a wealth of experience and truly loves working with children, bringing a smile and positivity into the building every day. It is a joy to collaborate with Kim because she is insightful and reflective.
August 25, 2022
Manchester Journal
MANCHESTER — Northshire Day School Executive Director Laurie Metcalfe has earned a Step Three Program Director Credential, demonstrating quality and leadership in the world of early childhood education.
"Laurie has a clear vision for what early childhood education can accomplish as a field and in our community," remarked school Development Director Jennifer Luty. "Laurie strategically focuses on how to produce the best outcomes for children and families."
The Step Three Credential process includes college coursework, experience and the completion of a portfolio demonstrating the application of over 50 competencies with expertise in children's families, communities, financial and program management, as well as leadership in the field of early childhood education.